Frank Morring, Jr.
NASA human-spaceflight managers are evaluating whether it will be possible to switch to a more capable upper stage for the heavy-lift Space Launch System (SLS) in time for its first flight with a crew.
The U.S. space agency has scheduled that flight — designated Exploration Mission-2 (EM-2) — for 2023, although it is still working to a 2021 target date set earlier in the SLS development. William Gerstenmaier, NASA's associate administrator for human exploration and operations, told the Von Braun Memorial Symposium here Oct. 29 that the agency wants to use SLS to set up a yearlong human mission around the Moon in 2029, and the planned Exploration Upper Stage (EUS) will be critical to that goal.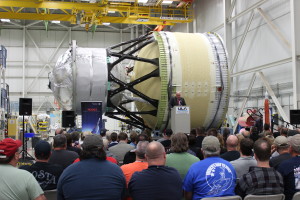 "We want to fly EM-2 as early as we can, and I would like to fly EM-2 if I can with EUS," Gerstenmaier told Aviation Week. "It's driven by budget; it's driven by technical work. It's driven by requirements; it's driven by all those things. So I would say we're actively analyzing all of that right now to see if we can figure out a way to get it to fit on EM-2."
Read the full article at Aviation Week.
Leave a Reply
You must be logged in to post a comment.