Don't forget–tune in to NASA TV tonight to watch Expedition 45 launch to the International Space Station at 12:34 a.m. EDT. This will be a taxi flight aboard a Russian Soyuz spacecraft, taking up Sergey Volkov and Aidyn Aimbetov of Roscosmos and Andreas Mogensen of ESA. Aimbetov and Mogensen will be coming back 10 days later along with Gennady Padalka of Roscosmos aboard a different Soyuz spacecraft.
During the 10-day stay, Mogensen will participate in several important experiments, including a project call Interact Centaur, which will task Mogensen with controlling a robot on Earth and getting it to perform a sequence of tasks. This will provide some important data on the ability of astronauts to teleoperate robots, as telerobotics will be a critical component of future manned and unmanned deep space exploration.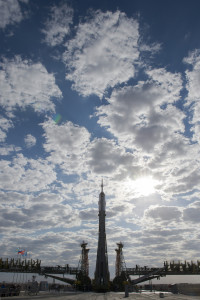 Image credit: ESA
Leave a Reply
You must be logged in to post a comment.