Blog.
September 10, 2020.
By: CDSE Team.
ADVANCING DEEP SPACE EXPLORATION GOALS THROUGH DIVERSITY
The Coalition for Deep Space Exploration (CDSE) works with sixty companies that are helping humanity take its next giant leap in space exploration. CDSE comprises both companies directly involved in developing the deep space systems that will take us to the Moon and beyond, and the entrepreneurial businesses that are helping develop new approaches to space activities and a space economy.
In support of the nation's space program, CDSE engages in educational events on Capitol Hill, public awareness of science and human spaceflight programs through channels such as social media, policy education through papers, and constant communication with members about government decisions. Our leadership also advises the White House and the Federal Aviation Administration through the Space Council and the Commercial Space Transportation Advisory Committee (COMSTAC).
At the heart of our mission and our vision is a small but diverse team that shapes our strategies. In 2015, our president and CEO, Dr. Mary Lynne Dittmar, began working with five industry members to create CDSE, and brought in Tiffani Hutton to help establish processes for the nascent organization.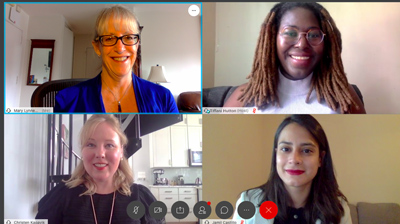 Image: CDSE team. Clockwise from top left: Mary Lynne Dittmar,
Tiffani Hutton, Jamil Castillo and Christen Kapavik.


Tiffani conducted market research, consulted on software, and helped with outreach to members for the first three years of CDSE. She now manages CDSE's schedule, supports meetings, and handles billing, while completing a master's degree at Columbia University. As an African American woman working in the space sector, Tiffani states that "Diversity and representation are key to attracting talent and ideas," as she remembers her own experience building the Coalition from the ground up with Dr. Dittmar and interacting with other people belonging to minority groups in space.
Under Dr. Dittmar's direction, CDSE underwent rapid growth, leading to the need to expand the team. The next addition was Christen Kapavik, who had worked as a Congressional staff member for nearly a decade, writing policy about different subjects including space. Christen took over member relations and operations at the Coalition. Drawing on her Hill experience, she also serves as CDSE's primary liaison to Congress. About her interest in space, Christen says "Having grown up in Florida near NASA's Kennedy Space Center, smoke and fire made me excited about space from an early age."
In contrast, Jamil Castillo, who joined us a year ago to do policy analysis and communications, was born and raised in the Dominican Republic, where rocket launches are non-existent. But her excitement about space, which started three years ago while she was going to graduate school for air and space law in Canada, radiates through her work. Jamil helps develop policy positions for CDSE, writes for our blog, and manages our digital outreach.
Because of her background as an immigrant, a lawyer, and now a space nerd, Jamil is all about creating narrative and messaging that is easy for the public to understand and feel part of space achievements. Christen, a self-declared extreme extrovert, is all about building relationships. That's why we can rely on her incredible knowledge of our members and other stakeholders to make projects relevant to them. Meanwhile, Tiffani's intuitive character and diverse skill set has played a key role in keeping the team moving forward. Our CEO Dr. Dittmar relies on all of the leadership team to keep the Coalition going while she acts as our voice on a full-time basis– literally.
The CDSE team is small, so we largely have to leverage our diverse backgrounds to strategize about all of our projects and find ways to help our members. With every project, we at CDSE realize that the diversity of our backgrounds is what helps us think creatively and approach problems from different angles. And we believe we help showcase the value of bringing different voices to the table in aerospace.