Blog.
July 10, 2020.
By: CDSE Team.

FOR LUNAR RETURN AND EXPLORATION BEYOND, AMERICAN INDUSTRY WILL RISE TO THE CHALLENGE
The Administration has issued the challenge to land the first woman and next man on the Moon for the first time since 1972, where a new generation of space explorers will conduct operations to prepare for a sustained human presence there, and an eventual human mission to Mars. The driving objectives of NASA's Artemis program – to gain new knowledge about the Moon, Earth, and our origins in the solar system, all while preparing for Mars – are essential stepping stones in our plans for deep space exploration of and beyond the Moon. At a time of global crisis, such as we now face, we must marshal all of our efforts toward the future. Meeting these objectives will call on the full capabilities and sustained commitment of government and industry across the world to launch a new era of exploration on an unprecedented scale. Take for example the Human Landing Systems (HLS) development contracts awarded by NASA earlier this year. The contracts reveal an extraordinary depth and diversity in America's space industry that will keep the Artemis program on track and moving forward to achieve the Administration's challenge. The HLS, which will transport crew members to and from the lunar surface, will be a vital part of NASA's deep space exploration architecture, along with the Space Launch System (SLS) rocket, Orion spacecraft, the Exploration Ground Systems that enable them, and the Lunar Gateway.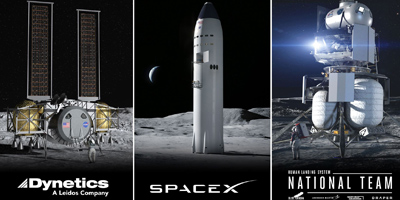 Image: NASA.

With the selections of a diverse team of suppliers including Dynetics teamed with twenty-five subcontractors, a Blue Origin led team with Lockheed Martin, Northrop Grumman and Draper, and SpaceX, the depth and growing diversity of America's space industry is abundantly clear and extremely encouraging. Each of the proposed concepts are different and compelling. For example, both the Dynetics and Blue Origin teams are leveraging heritage subsystems and expertise while opening the door to new approaches. Dynetics is developing a two-stage solution featuring a single structure lander providing both lunar ascent and descent capabilities that can launch on the SLS Block 1B and the United Launch Alliance Vulcan Centaur rocket – both evolving systems from legacy builders.

The Blue Origin led team is developing a three-stage lander that can be launched on its own New Glenn orbital heavy-lift launch vehicle as well as ULA's Vulcan Centaur launcher, with the ability to also utilize SLS if needed. To meet the Artemis challenge, NASA is wisely leveraging decades of human spaceflight experience and the speed of the commercial sector to achieve an accelerated return to the Moon. And hundreds, if not thousands, of diverse suppliers from around the globe will also contribute their unique expertise in a way that truly reflects the world today. Deep space exploration is a team effort in almost every way imaginable. Government, industry, and international partners will be working together to provide the technology, as well as to build and test the systems that will be required for missions to Mars and beyond. It will take large and small businesses, public-private partnerships, legacy and innovation. The return of humans to the Moon to stay and to explore farther into deep space presents a formidable challenge. But the capability and power of American industry, when challenged to work together, has risen to deliver giant leaps throughout history. And it is ready to rise again.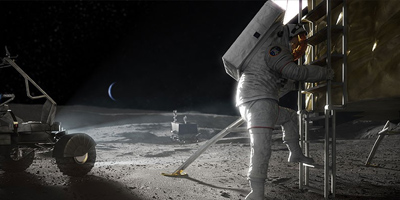 Image: NASA