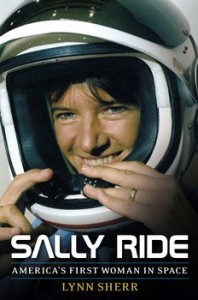 Sally Ride – America's First Woman in Space by Lynn Sherr; Simon & Schuster, New York, New York; $28.00; June 2014.
This is a truly inspiring book, written by a top-notch journalist about an extraordinary woman – Dr. Sally Ride.
It's corny to talk of Ride as a woman who simply served up the proverbial "right stuff" in tennis player fashion – but more a person who shattered NASA's "celestial glass ceiling."
This book is a wonderful portrait of Ride – a self-described introvert – but a woman that inspired so many others to strive for and cultivate a "can do" spirit.
Sherr is a masterful writer and researcher. The reader will encounter many, many "didn't know that" facts throughout this work. The author had access to Ride's diaries, letters and personal files to pull together this tell-all book, as well as recounting the late astronaut's guarded personal life, specially her sexual orientation.
As expressed by Sherr: "Writing Sally's life without her participation has made me, like any biographer, part detective, part historian, part arbiter of divergent tales, often piecing together fragments very reluctantly divulged."
Following her 1983 and 1984 space shuttle flights, Ride was among the experts on select panels drawn together to investigate both the Challenger explosion in 1986 and the loss of Columbia and its crew on re-entry in 2003. As revealed in the book, Ride believed the seven-person Columbia crew might have been returned alive – admittedly a "high drama" rescue mission could have been staged, one that involved spacewalks that "would have been sporty, but…not impossible."
In 2001, Ride founded her own company, Sally Ride Science, to pursue her long-time passion of motivating girls and young women to pursue careers in science, math and technology. "She wanted to awaken young female minds to the wonder of science that had captivated her," Sherr explains. "She wanted to inspire and insure the next generation of America's mathematicians and engineers and physicists and astronauts."
This outstanding book propels forward that inspiration. It underscores the many contributions Sally Ride gave America and the world. "As first females know well," Sherr writes, "every small step by one is a giant leap for us all."
Note: Go to a special "History in Five" video – Sally Ride, America's First Woman in Space. Veteran ABC News and 20/20 reporter Lynn Sherr tells you five incredible things you should know about Sally Ride, America's first woman in space.
To watch the video, go to:
For more information on this book, go to:
http://books.simonandschuster.com/Sally-Ride/Lynn-Sherr/9781476725765
By Leonard David
One Response