Featured Member :: FUTURAMIC
FUTURAMIC TOOL AND ENGINEERING – EMBRACING CHANGE
The world is always changing. Many people say that the world is getting smaller every day, but not at Futuramic Tool and Engineering (FTE), or any of the other companies who are partnered in support of public and private space exploration and enterprise.
FTE was founded over 60 years ago as a small, privately-held, tooling shop supporting the automotive industry. Fast forward to 2017, FTE is still privately-held by the founding family and has grown to include three major facilities on three separate campuses with over 250 employees. As the auto industry significantly downsized in the late 1990's it became clear that FTE could no longer expect to fuel its growth from automotive market.  FTE made a conscious effort to diversify its customer base into a variety of markets.  The transition from automotive focus to aerospace has had its challenges, but FTE has embraced the change and thrived, causing our world to grow dramatically as we move into deep space exploration support. As a member of the Coalition for Deep Space Exploration, we are looking into the future once again.  We expect the world to keep growing..
FTE is proud to be a supplier to the Space Launch System (SLS), America's deep space exploration launch vehicle. Over the last five years FTE has made numerous friction stir weld tools, assembly tools, platforms, overhead lift devices and structural simulators for use by Boeing in the construction of the Space Launch System (SLS) rocket at the NASA Michoud Assembly Center in New Orleans, Louisiana (MAF).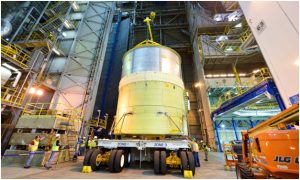 Photo: Courtesy NASA.
It was a momentous day at FTE when the Engine Section and structural simulator shipped from MAF to the test facility at the Marshal Space Flight Center in Huntsville, Alabama, on the Pegasus barge. FTE has contributed to almost every component. The Engine Section was built on tooling designed and built by FTE and includes structural components machined by FTE. The Structural Simulator was built by FTE using a unique manufacturing process to insure dimensional accuracy. The OHME lifting the assembly was designed and built by FTE, including a custom proof load system. On the right side of the image is the modular removable Cell "A" platform designed and built by FTE.
By embracing the need to move away from our automotive roots, today FTE has grown to over 600,000 square feet of fabrication, machining and assembly space.
The Futuramic Main Campus houses the vast majority of our machining capability except for our largest mill which is located in our fabrication facility. The most notable features of our machining resources are:
– Number of NC Mills
– Overall Size of the Mills
– Level of Technical Advancement
– New Equipment, ~ 25% of the machining capability is less than 10 years old
– Continuous Investment in Machining and Support Capability.
The Newest Additions, 2- 56' Breton Dual Gantry High Speed 5- Axis Mills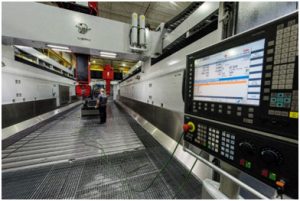 The FTE fabrication facility is not your normal weld shop. At Futuramic we apply the same discipline to fabrication as we do our machining facilities. The Futuramic fabrication facility is clean, bright and well organized. Our associates are highly trained with extensive experience and usestate-of-the-art equipment. The FTE Fabrication facility features:
– Automated Documentation Management and Material Certification Traceability System
– In-house CWI
– ALL Welding Associates are AWS Certified
– Extensive Experience in Cutting, Forming and Welding All Material
We have come a long way since 1955 from the small rented shop in a booming blue-collar suburb of Detroit. At that time it could not have been imagined that Detroit and the automotive industry would not continue to grow forever. FTE is playing a small part in the remarkable revitalization of Detroit by investing in our company and associates— remaining in Detroit as other companies fled, focusing on the aerospace industry that was in its infancy 60 years ago when FTE was founded.
Futuramic is proud of our past and the work we are doing in support of the U.S. national and commercial space programs. FTE is actively involved in Community Give Back supporting local, state and national programs. Change can be scary but the ride and results are worth it!
More about Futuramic may be found at their website: http://futuramic.com/
Previously Featured:
– Jacobs
– Made In Space
– Astrobotic