Building the nation's new giant rocket are hundreds of small businesses across the country. From 43 states, more than 800 companies have contributed to NASA's deep space exploration rocket.
The new rocket, Space Launch System (SLS), will launch next year. One of the prime contractors and founding members of the Coalition, Aerojet Rocketdyne, supplies the program with the rocket's core stage engines. Four powerful engines that produce 512,000 pounds of thrust each will together provide a torrential amount of thrust. The RS-25 engine combines proven performance with advanced engineering and technology.
SLS is an evolvable launch vehicle and will become more powerful over time. Here's an expanded view of the first block of SLS:
Image credit: NASA/MSFC


To get a sense of the power of just one RS-25 engine, here's an engine test that took place in May 2015:
Image credit: NASA


Now picture four of those at the base of the rocket, and you start to get a sense of the tremendous power that SLS will possess. This is not even taking into consideration the two giant solid rocket boosters that will provide 3.6 million lbs of thrust each on the 2018 launch.
The image below shows the second configuration of SLS during which the rocket will launch astronauts beyond low Earth orbit and into deep space inisde of the Orion crew vehicle.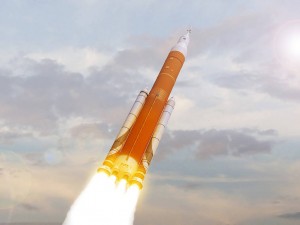 Image credit: NASA


Taking a closer look at two of the small businesses that support SLS through Aerojet Rocketdyne, we can see the impact that NASA's SLS program has on their businesses.
One of more than 20 small businesses supporting Aerojet Rocketdyne, Metalex Manufacturing, Inc. has been supplying parts to the SLS program since 2008. The 125-employee business is one of the leading machine shops in the nation. For various SLS parts, this Ohio-based small business provides engineering, precision machining, fabrication and assembly services.
The parts provided to SLS by Metalex include a large component that is critical to the Launch Abort System on top of the rocket – the large titanium 4-port manifold. The business also provides the crew tunnel which is part of the Orion crew capsule that will travel on top of SLS during its 2018 launch.
Metalex, a small disadvantaged and veteran-owned small business, provides turbomachinery and structural parts for the RL-10 engine which will be in the rocket's upper stage and the RS-25 core stage engines. The business has invested in its equipment and workforce, increasing their capability and expertise. This allows them to support the SLS program with both current and future needs.
Metalwerks PMD, Inc. has supported SLS and Aerojet Rocketdyne since 2010. This veteran-owned small business has 29 employees, which all contribute to developing multiple alloy products for the RS-25 engines. This includes a new melting process for a copper-based alloy called Narloy-Z which was developed by NASA in the 1970's. The process creates much higher final product yields and lower inclusions. The business has been able to reduce final product costs by around 50 percent.
The small business also manufactured superalloys for the next generation of Aerojet Rocketdyne's engines. Aerojet Rocketdyne helped contribute to the increase of Metalwerks' sales and employment growth, and the company looks forward to growing with Aerojet Rocketdyne to meet future NASA space flight needs.
Ongoing deep space exploration enables small businesses all around the country to contribute toward and benefit from NASA programs. SLS is supported by an impressive quantity and quality of small businesses that will enable the rocket to open up a new era of exploration.
Learn more about SLS at NASA.gov.
Leave a Reply
You must be logged in to post a comment.