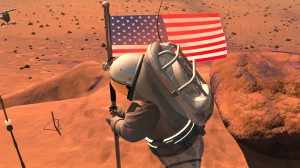 A new report from the National Research Council (NRC) — Pathways to Exploration – Rationales and Approaches for a U.S. Program of Human Space Exploration – is slated for a June 4th release.
Members of the authoring committee will present the report's findings and recommendations and respond to questions at a public briefing beginning at 11 a.m. Eastern Daylight Time, Wednesday, June 4.
NOTE: A live webcast of the June 4 event will be available for viewing at this site:
http://sites.nationalacademies.org/DEPS/ASEB/DEPS_069080
According to the NRC, "a national consensus on the long-term future of human spaceflight beyond the U.S. commitment to the
International Space Station remains elusive."
The NRC report, authored by a blue ribbon group, will describe the rationales for human spaceflight beyond low Earth orbit and
develops recommendations that could guide the U.S. human spaceflight program "in a sustainable manner."
For your viewing pleasure, Asif Siddiqi, a historian of science and technology, describes the major decisions that shaped U.S. human
spaceflight in the 20th century.
Go to: https://www.youtube.com/watch?v=UD7yRMazGHU
Meanwhile, NASA has issued its own paper, Pioneering Space: NASA's Next Steps on the Path to Mars, dated May 29th.
That paper is authored by NASA's Human Exploration and Operations Mission Directorate (HEOMD) and explains NASA's roadmap to send astronauts to an asteroid by 2025 and Mars in the 2030s.
You can read HEOMD's "Pioneering Space" document at:
By Leonard David